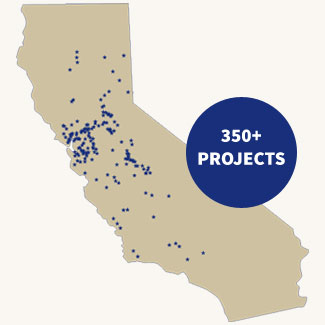 Assisted with the conservation of 80,000+ acres of natural lands
Since 1996, we have completed more than 450 projects ranging from small site assessments to large-scale conservation, mitigation, and development projects. We provide services and expertise throughout California and other western states.
Our Company provides the following Core Services:
Rare Plant and Wildlife Surveys, Habitat Assessments, and Species Restoration
Formal Wetland Delineation and Sensitive Habitat Mapping
Vegetation Ecology, Classification, and Mapping
Regional Conservation Planning and Development Studies
Mitigation Bank and Mitigation Preserve Establishment
Conservation Land Management and Monitoring, and Invasive Species Control
Wetland, Riparian, and Upland Habitat Restoration
Rangeland Management and Grazing Assessments
Biological Constraints Analysis, Impact Assessment, and Permitting
Advanced GIS Analysis, Remote Sensing, and Cartography
International Research
Our company works internationally on selected wildlife and habitat conservation and research projects, serving in both leadership and support roles.  Through these projects, we expand our knowledge and contribute to global resource conservation.
Recent projects have included Frog Diversity Monitoring in the Peruvian Andes and Amazon Basin; and Vegetation Classification and Mapping within a threatened wildlife  corridor in Northeast Tanzania, Africa.